Description
DAKOR presents the first electric scooter with a range of over 100 km *: Kaabo Skywalker 10S!
Kaabo Skywalker 10S electric scooter - for friends of a clean environment
Are you tired of seeing the climate go crazy? How does the news announce an alarming degree of pollution? How few are going to give up their comfortable cars to ride bicycles or scooters? Well, the change around you can be you. And no, that's not a euphemism for something else. It's a fact: choose a Kaabo Skywalker 10S electric scooter and you will see how easy it will be for you to move from one point to another in the city.
In addition, it is by far an eco-friendly friend and a personal and chic means of transport.
Some aspects about the Kaabo Skywalker 10S electric scooter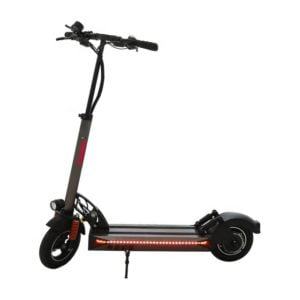 The autonomy of this scooter is 120 km, which means you can forget about the care of its load. Depending on how much you use it, you can charge it once or at most twice a week. And in crowded traffic, this will become your main means of transport, fast, safe and efficient.
And to better understand what this autonomy means, we point out that there are people who have already purchased the model and who say they can use it without worries, day in and day out, when I go to college or work.
Kaabo Skywalker 10S electric scooter comes equipped with a 400 W motor and a 36 V battery with 41.6 Ah, which gives us two valuable information: on the one hand, the scooter is fast enough for daily trips around the city, and on the other hand, it saves you from worrying about autonomy.
In terms of wheels, it fits very well. These are of the 10 inch type, ideal for ensuring balance and comfort on the go. And if we keep talking about comfort, we can not mention the double suspensions, available on the front and rear. These are the ideal remedy for cracks and deep potholes in sidewalks and streets.
The braking system has discs on the front and back and can be pressed easily, without encountering any problems. So you do not have to worry if all sorts of obstacles appear in your way. And if you ask us, more attention should be paid to the areas around which there are children, such as schools and kindergartens.
Regarding the maximum speed of this scooter, we specify that it is 40 km. However, the legislation in force requires a limitation of the scooter to 25 km / h, on all public roads. Of course, this also applies to speed and adrenaline lovers, also for safety reasons.
Beyond the ecological walks and the pleasure of using a scooter like Kaabo Skywalker 10S, this model is ideal for those who offer courier services or deliveries. So if you intend to open a business of this kind, be it seasonal, we recommend that you do not hesitate to invest smartly in such a product.
That being said, we warmly greet the lovers of electric scooters and wish them smooth and pleasant walks. And we look forward to impressions of the first walks with Kaabo Skywalker 10S, an electric scooter that will quickly collect praise.